Title: The Rose and The Dagger
Publication Date: April 26, 2016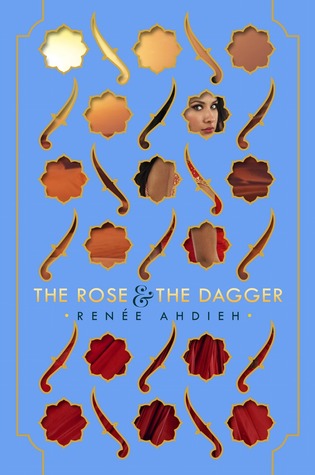 What can I say? I just keep on daydreaming about Shazi and Khalid even now that I'm done reading it and have even read another book.
So, feels. I can't say anything but feels. I'm dumbfounded, dumbstruck, speechless. Everything I was expecting from this book and more have been laid out on the pages of this book. Someone asked me on twitter if this is duology or series is good. It's more than good. Good times a thousand and one.
Shaharzad is the queen of all queens in YA. I loved that as a queen she's too fierce for her own good but still the fiercest of all anyways. She's determined and very firm in all her resolves. Her loyalty for love is a thing of beauty in here. She was the first one who saw through all the layers and walls of Khalid before seeing the beautiful and broken boy inside him. She's smart and strategic. She's sacrificial and loves unconditionally. All girls must have to be like her. She's the real perfect epitome of a queen. She deserves to be respected and more.
Khalid. All I need are more Khalids in YA books. All people thinks of him as the murderous monster boy king when in fact and deep inside he's just a beautiful boy with a broken past. He has all the right reason for doing what he did and maybe he might have did wrong in the past but he rights it because he found peace and love in Shazi. As I have a thing for beautiful monsters like him I can't help but swoon and feel fierce love and admiration for him.
The Perfect Balance. Do you ever read a chapter so many times you think you can even write that chapter yourself or direct a scene from it. Seriously this chapter got all the feels out of me. I just can't. So much tension. So much romance. So much love.
After all those days that my book is delayed from the mail, it's worth it. It's so worth it that I didn't read my kindle copy before my book arrived. This is my ultimate favorite series and I love it fiercely it hurts so much.
I just want to thank Renee for this book. For the characters she wrote that will stay in my heart and consciousness forever. And can I also say I think she is so very lucky to have her husband Vic. Which is probably who Khalid is based from. Thank you from the moon to the moon, Renee.
I don't know what you are doing with your life if you're not reading this series yet because obviously you're missing a lot. You're missing the best thing in YA ever. Most of all you are missing Khalid. I'll miss him though, but I'll probably just reread the books when I miss them. And I'm probably going to name my kids Shazi and Khalid when the time comes.