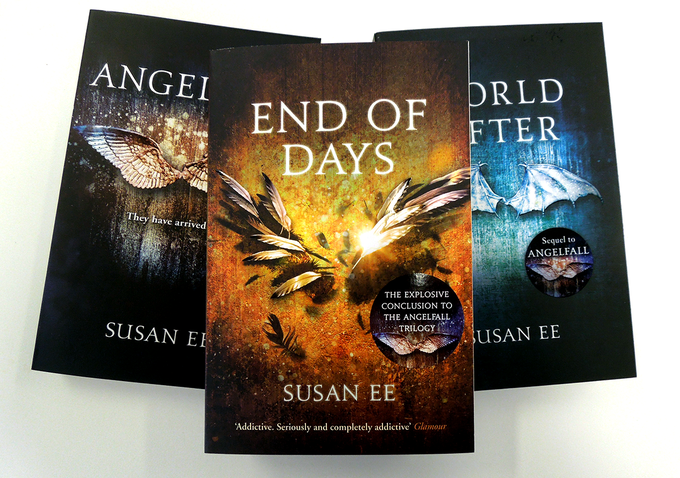 Title: Angelfall, Word After, End of Days
Series: Penryn and the End of Days #3
Author: Susan Ee
Date Published: May 12, 2015
You have no idea how long I waited for this book to come out. It felt like it took forever but then I've just read the conclusion in about 4 straight hours-Oops.
I ship no ship as hard as I ship RAFFRYN (Raffe + Penryn).
Penryn is the strongest, boldest, fiercest and most loyal female character I've ever encountered. I love her to the ends of the world. Penryn is the girl that doesn't defend on some guy for her survival or her feelings. She lives with that pure fire in her that drives her to do the things she wanted just the way she wants it. No matter what the situation throws at her she doesn't back down. She just has to keep fighting for what it's worth. Even if her mom is mad, her sister has turned to a monster, the guy-the archangel she loves keep on denying her and pushing her away, SHE IS STILL THERE. NO MATTER WHAT. That makes her loyalty unwavering. She had to step up as a leader even if it's not within her. She's a natural in everything. She makes the world a fiercer place.
Raffe on the other hand is Raffe. Raffe is Raffe. Wait okay. Raffe is HOT. Still shirtless in all that archangel glory but in this book he is coming to realize that he is drawn to Penryn no matter how he resists it. He might say he can't it can't be those kind of whatever but we all know he's been into her ever since that kiss in the aerie. RIGHT? His actions show very much that he protects Penryn and he can't let her go. They are both the fires that keep each other burning. In this book finally the sexual tension ceased. Finally. But just kisses aren't enough! Who agrees with me? Let's write a petition to Susan to write more about Raffe and Penryn to ease the frustration. I AM SO NOT SATISFIED WITH JUST KISSES. NOW THAT THEY'RE TOGETHER WE NEED MORE. LOL.
Susan Ee's writing is so beautiful the world stops when you read it. The fantasy soaks you up to an entire different level of high. One of a kind fantasy stuff. Her concept here that combines the apocalypse and angels is very original and awesome. Even if I needed more of Raffryn scenes in the last book, everything is perfect I couldn't have asked for a better ending. Raffe and Penryn for life. I just wish Susan will write more YA even if it's not Raffe and Peryn any longer.
If you haven't read this trilogy well you're so missing out love. There is no just right Romance and Fantasy like the Angelfall Series. Favorite Series ever. Trust my favorites. I have taste. Angelfall movie soon! I CAN'T WAIT. JUST IMAGINE THE CASTING. THE MOVIE. EVERYTHING.
5/5 stars