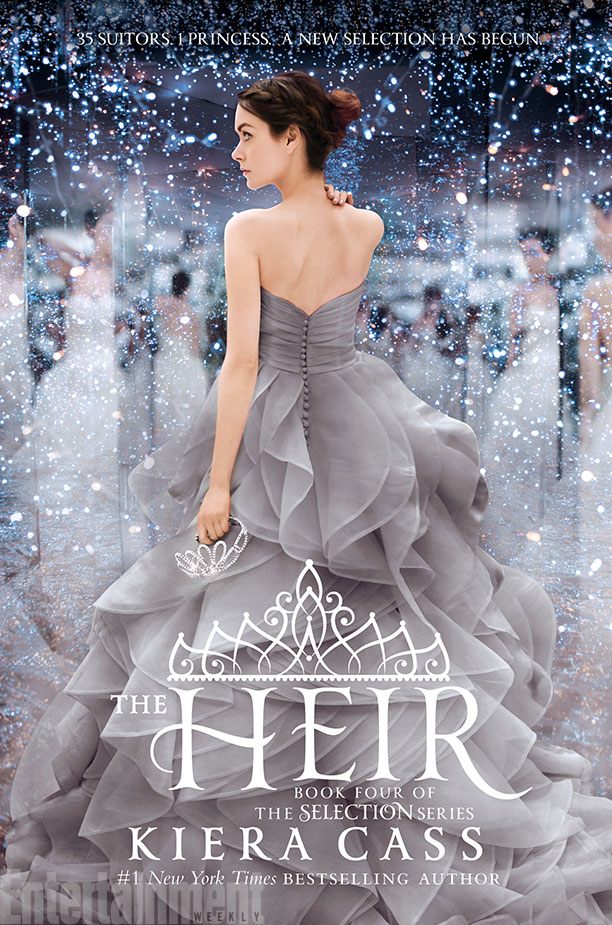 Title: The Heir
Series: The Selection #4
Author: Kiera Cass
Publisher: HarperTeen
Date Published: May 5, 2015
I didn't expect this series to still have another book! I mean really, I had already made my series reviewof the Selection. I thought it ended with Maxon and America, but no, Kiera wants to give us more. So who am I to question it? I'll just sit back and enjoy reading what Kiera will have to write even if the Selection Series will never end.
The Heir of course, if you've read the Selection or haven't yet read for that matter is obviously about the heir of the main characters of the first books. It's now about Eadlyn (the daughter of Queen Mer and King Maxon's) selection. So now we got to see the side of things in the lady's point of view and how is it to deal with bachelors and arrange marriages. Eadlyn had all the privileges Maxon never had and yet she has this not so very good and kind attitude. Eadylyn is bratty and head-strong. She wants nothing to do with guys and falling in love. Of all Schreave siblings I think she's got the least of her parents DNAs. What's not to like about those likeable bachelors, Henri, Hale, Eric and Kile.
We also see here how Mer and Maxon are doing the parenting thing and I'm impressed. They're the kind of role model parents. They are still sweet to each other and going strong I love that my ship has sailed beyond the horizon. Sometimes it makes me believe about forever. There are also the Schreave siblings I all love the especially Ahren. He is so Maxon I'm in love with him. I'm Camille, you're argument is invalid. Kaden an Osten are cuties. So many Maxerica babies.
So, for the love of everyone I am proud to say I AM TEAM HENRI *holds team Henri banner high*. I love Henri so much it hurts my heart. He may not know Eadlyns language so much but his actions tell it more. He's so kind and so adorable it breaks my heart to feel what he must feel if Eadlyn is with the other guys. He's so gentle, lovely and sweet. He has blond curls, the way he talks the way he carries himself, THE FACT THAT HE CAN COOK DELICIOUS DESSERTS-THAT HE MIGHT BE A CHEF. I swear he could cook for me all day. THAT EADLYN-HENRI KISS KILLED ME. I have a weird fetish for shy guys. In Henri's actions he can prove that he deeply cares for Eadlyn. Language barrier is no problem I mean Eadlyn can learn to speak swendish, and Henri can learn to speak English. That is pretty simple. And in Ahren's letter huh he's Team Henri the most! Stubborn fierce princess plus a sweet gentle cute-speaking cook = perfect and not mainstream sweet ship combination.
I'm sorry but not really sorry that I'm not team Kile. Pretty mainstream and predictable and I don't know I see their relationship like quite familial because they grew up in like the same house just more huge. And I you don't fall in love with the guy you use for pleasure like kissing whatsoever. That is so Cliché. And no-don't even consider Erik for Eadlyn because he's just a friend. He can fill up the void Ahren left in Eady. That must be his role.
This book ended though in a cliffhanger. Something happened to America, my precious. And if she *you know* just no because he would be MaxOFF (c/o Sammie) She can't because MaxON can't be MAxOFF. And it's too soon because I felt like I've just read The One like yesterday.
Overall like all Kiera Cass's books, worth the while, worth the wait and worth the read.
4/5 stars