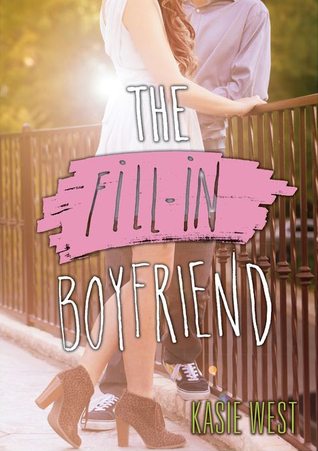 Title: The Fill-In Boyfriend
Author: Kasie West
Publisher: HarperTeen
Date Published: May 5, 2015
Of all contemporary writers my favorite is Kasie West, not John Green not anyone. Kasie's contemporary has the perfect mix or should I say blend of lightness, heaviness, drama and humor, romance, high school and everything you are looking for in a contemporary book. It's not too heavy and dramatic to the point that you feel depressed and it's not too light as well. Her books are literally perfection.
I love reading Kasie's works because I wait for like a century and I read it for like just two hours no kidding. Once you open a Kasie West book don't expect yourself to ever close it until the last page. That is the charisma of every book Kasie writes.
Our Fill-In Boyfriend here is Hayden. I love his name too, Gia okay? He's so dreamy. Those brown eyes and kind heart. Gia's is like the picture of normality and Hayden is the exact opposite. See opposites attract. Gia found new friends and a new love from a heart-break. From a break-up she finds her true love. She taught me not to lie to friends and not build up lies with more lies because eventually you'll get caught up and there's no escape. She taught me that might lose everything but losing everything might mean that there's better than what you think was everything because really it is not everything. You lose something for something apparently better than what you deserve.
Life lesson also in this book is that we are in no need of anyone's validation. Most especially from strangers. Yes there is the damage already but we can't undo it. So what if we don't get 1000000 likes on facebook, 1000 likes on instagram. If people are not tweeting you about what you tweeted don't feel the need to delete it. If you are not commenting on this blogpost or book review so what right? I did it to express my love of the book I've read and that is all. We must learn to know that social media is made for self-expression and not self -validation. You all need to grab a copy of this book and learn the lesson.
Hayden is the perfect boyfriend material. He's good in acting and very tall. He has a weid family and weird personality that will make you love him even more. He gives what he owes. He might have trust issues like all of us but love can conquer those issues. He also has an awesome sister. (I hate guys who are so clueless!). Painter mom and cool family. He's the dream boy every normal girl dreams of. You ought to read about him.
I've watched this theme in movies and tv series I know about making the ex, jealous by another girl or boy in pretend but I've never really read it in a book. So thank you Kasie! I love your Contemporaries! Please write and write and write and write more and I will read them all.
5/5 stars